Who'll look after your cat while you're on holiday?
Your holiday is getting closer. You're in a great mood and preparations are in full swing. Everything is perfect except for one thing: who will look after your cat? No one's available to care for your kitties and despair rears its ugly head.
How will you manage your cats and still save your holiday? You wouldn't want a stranger in your house and your cat can't be home alone for such a long period of time. A neighbour could help, or perhaps a family member. But you've been arguing with your neighbour for a month and your family is quietly jealous that you're going on holiday and they're not.
If only there was someone you could rely on.
Who will look after my kitty?
Travel without a care in the world. We'll look after your cat as if it were our own. We offer a simple and trouble-free solution. Bring your fluffy family member to our hotel designed specifically for cats. We provide 24-hour care for your little tiger during those times when you can't, such as during vacations, work trips, skiing holidays, spa treatments or perhaps just when you need a weekend away. Rest assured, each of our furry clients receives plenty of love and attention, ensuring they enjoy themselves in our hotel during your holiday.
Accommodation – A wide cage for each and every cat
Environment – Security and cleanliness is guaranteed
Playground – We play with your cat every day
Outdoors – An outdoor playground during the summer months
Collection – If needed, we'll safely pick up and deliver your cat from your home
Communication – We'll email or message you on how your cat is getting on
Postcards – We'll send you an e-postcard featuring your very happy cat
Price list
| | |
| --- | --- |
| Cat | 11 € per day |
| food for cat | 2 € per day |
New price since 15.6.
| | |
| --- | --- |
| Cat | 12 € per day |
| food for cat | 2 € per day |
Discounts are available when accommodating more than one cat or for stays longer than ten days.
Take a look at our hotel
It's never been easier. Check out our photo gallery, where you can see our guest cages, playground, cat trees, towers & scratching posts and outdoor area. If you're really curious, you're welcome to see our hotel in person. Just call us to arrange a no-obligation visit. You'll be able to see everything with your own eyes and we'll be there to answer all your questions.
https://www.youtube.com/embed/GxAHrOg4esg
What's the next step?
Call us on +421 948 60 50 36
Reserve your preferred date
Leave your cat in our care
Return home to greet your happy cat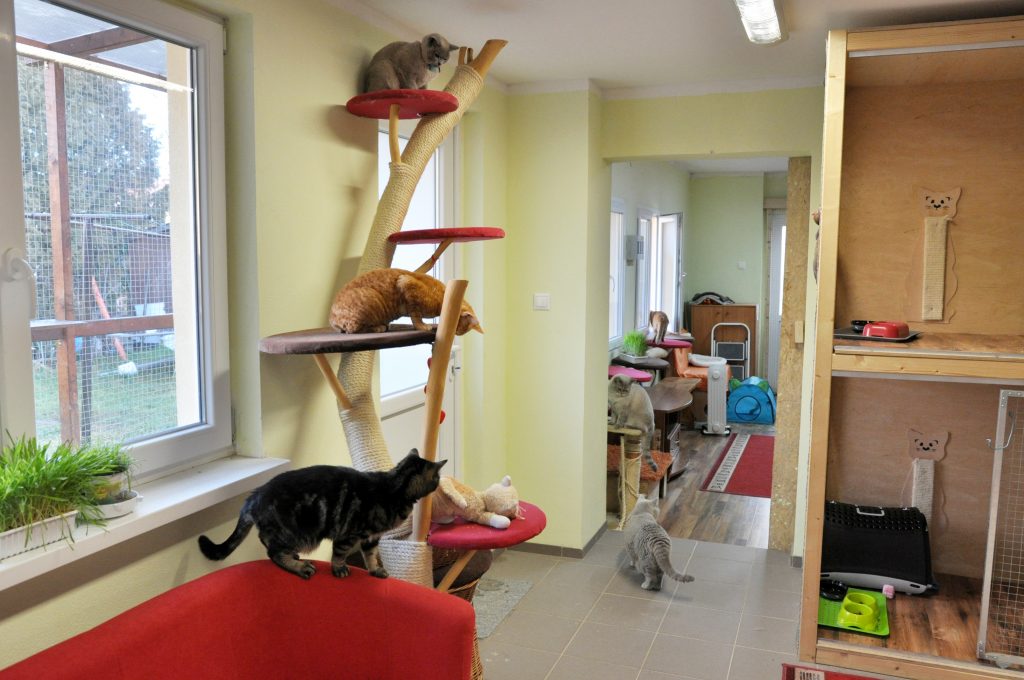 Call us on +421 948 60 50 36
Don't take any risks with the holiday you've been planning for months.
Contact us
---